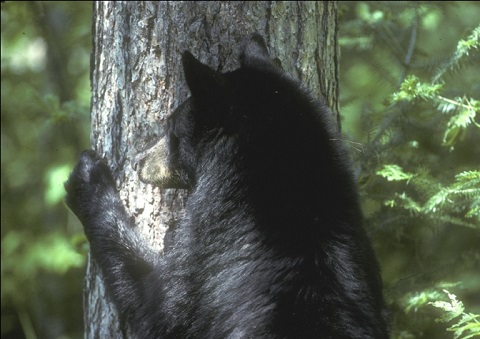 I set out on the morning nature walk with a few friends and was pleasantly surprised to have a large group of guests join us that day. I spent a few minutes along the fence of our resort property talking about the beauty and diversity of the Mudumalai region. I explained to our guests that spotting our "wild friends" would be purely chance and they can be lucky if they are attentive to the sights and sounds in the forest. They fully understood and we continued on our walk with a lot of excitement and enthusiasm.
We were just a few minutes into our walk and to my surprise I saw a black image near the teak trees (tectona grandis), as if searching for something. I first thought it was a tree shrub, however I soon realized it was a "Sloth bear".
He was busy digging into and searching the tree bark. After nearly a minute he realized he was being watched and seemed to be irritated on being disturbed. He then raised his back and stood on his two legs facing us. He was close to 5 feet tall and probably weighing around 120 kg. He was an adult male On noticing we were a group of people he suddenly changed his style and disappeared  in to the bushes behind him.
We continued our walk hoping we would spot him again; however I learned once again that in the wild the animals never come back for anyone but are masters of their own will and wish.