It was a visual treat for our guests as millions of fascinating Dark Blue Tiger butterflies fluttered away. This breathtaking scene could be viewed right on our resort at Masinagudi, near Ooty, situated close to the Bandipur and Mudumalai forest reserve.
Read more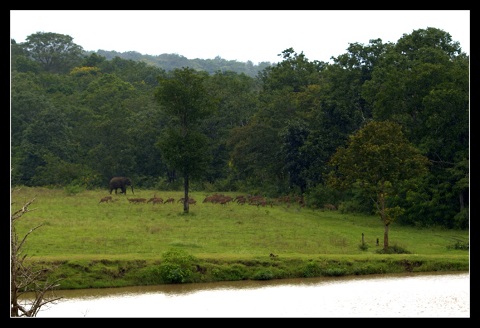 It was a cloudy evening at Masinagudi, just after a light monsoon shower. Peaks of the Nilgiris (Blue Mountains) around the Mudumalai forests appeared as a floating island surrounded by mist. I was at our resort, which is situated close to the Mudumalai National Park and the Bandipur National Park, enjoying the gentle breeze accompanied by a drizzle blow over my face. That's when I heard the distant call of pea fowl, it was around 5.00 pm, when a group of around five hundred deer slowly came out of the shade and started grazing freely on the open grasslands. And was I in for a "Jumbo" surprise… 🙂
Due to the recent elephant attack in the Singara forest range near Mudumulai National Park, and the unfortunate death of a British Citizen, Mr. Colin Manvell, there is a temporary suspension on the deep jungle safaris in the Singara region through which even InnTheWild Deep Jungle Safaris are typically conducted. This is a temporary suspension until the police investigation of the matter is complete.
To make sure that your vacation is not impacted in anyway, we are happy to inform you that the we will now take you  via the Government Operated Safaris at both Mudumulai and Bandipur National Parks. Also please note that during this time, our on-property safari/night drives and nature walks by expert naturalist remain unimpacted are still very much active. Both of these activities are included in the Package Rates and please note that there is always a very good chance of spotting wildlife during these activities as well.
We are in constant touch with the government and will keep you notified via our website and blog. Please register for the RSS feed, in case you would like to track this closely. Alternatively, please do call our reservations desk at +91-80-3075-2575 for any further questions or clarifications that you may have.