It was a visual treat for our guests as millions of fascinating Dark Blue Tiger butterflies fluttered away. This breathtaking scene could be viewed right on our resort at Masinagudi, near Ooty, situated close to the Bandipur and Mudumalai forest reserve.
Read more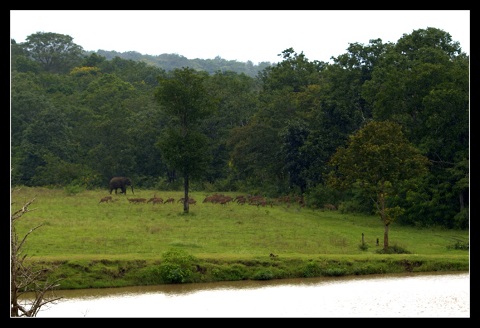 It was a cloudy evening at Masinagudi, just after a light monsoon shower. Peaks of the Nilgiris (Blue Mountains) around the Mudumalai forests appeared as a floating island surrounded by mist. I was at our resort, which is situated close to the Mudumalai National Park and the Bandipur National Park, enjoying the gentle breeze accompanied by a drizzle blow over my face. That's when I heard the distant call of pea fowl, it was around 5.00 pm, when a group of around five hundred deer slowly came out of the shade and started grazing freely on the open grasslands. And was I in for a "Jumbo" surprise… 🙂
We hear a lot about the need to conserve nature and protect our ecosystem, such efforts though are often limited to "creating awareness in the society'. Creating awareness is no doubt an important aspect for ecological conservation, however, can't our efforts be more impactful? To help answer this question, InnTheWild Resort Near Bandipur, as part of our continues conservation and eco-tourism efforts in Mudhumalai, has introduced our "Plant a Tree Initiative". So, come on over, and lets seed life together 🙂
Its 5.30 am. The weather still carrying the heaviness of last night's rain. Like an untamed wild horse, our gypsy geared and skidded through the bumpy and slushy terrain. Our tribal spotter and driver, Mr. Mahesh, seemed as relaxed as a cowboy as he made his way through the mist covered morning…
At InnTheWild, Located Near Bandipur,  our staff and management are always concerned about the beautiful wildlife and wilderness that surrounds us. So as a Senior Naturalist here, one of the first major steps that I have undertaken is to have gotten our first conservation program kick-started and approved by our management. This is the first among various baby steps that we plan to undertake, and when you do visit us, please do have a word with me (Subish Sebastian, Senior Naturalist, InnTheWild, Masinagudi) on how *YOU* can get involved with the InnTheWild Conservation Program.
Weeds are considered a serious threat to biodiversity in several World Heritage-listed areas including the Western Ghats and specifically the Mudumulai and Bandipur Tiger Reserve. Therefore weed management becomes the top priority for habitat management for the ungulate population and thereby for the carnivores.
InnTheWild, Masinagudi, Resorts Near Ooty, Naturalist Log: 26th August, 6.30 pm
We spot the elusive leopard all the time at InnTheWild, right within our property itself, especially during our complimentary on-property moonlight drive. Well, here is a story where instead of me spotting the leopard, I was spotted by it :-).
This behavior of leopard sightings in the buffer zones of the Mudumalai National Park near Ooty is common, because leopards tend to avoid tigers and so get pushed out to the fringes and into the buffer zone of which our resort is one of the only ones to be an integral part of. Below is a picture taken right next to my bungalow, back in November 2011, by our Naturalist at the time.
The dark clouds started pouring down after a promising sun shine in the morning. Last night's on-property safari was lucky enough to spot the big three of South India – The Elephants, The Indian Gaur and The Shaggy Sloth Bear. Before starting today's evening safari, streams of thought rushed through my mind…will I be able to cater to the expectation of our curious guests who started their trip with great expectations? Will the rain gods be kind enough make our trail smooth?
The answer came as we progressed our trip which started with an awesome sighting of beautiful peacock who came out to the open ground to enjoy the fresh shower of monsoon.