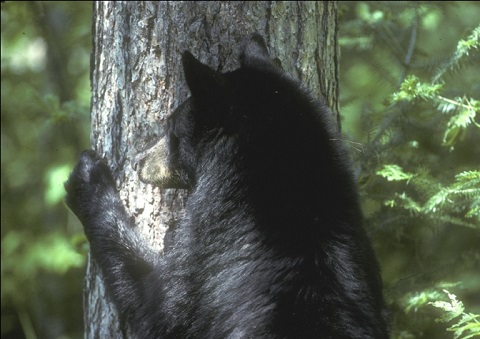 I set out on the morning nature walk with a few friends and was pleasantly surprised to have a large group of guests join us that day. I spent a few minutes along the fence of our resort property talking about the beauty and diversity of the Mudumalai region. I explained to our guests that spotting our "wild friends" would be purely chance and they can be lucky if they are attentive to the sights and sounds in the forest. They fully understood and we continued on our walk with a lot of excitement and enthusiasm.
We were just a few minutes into our walk and to my surprise I saw a black image near the teak trees (tectona grandis), as if searching for something. I first thought it was a tree shrub, however I soon realized it was a "Sloth bear". Read more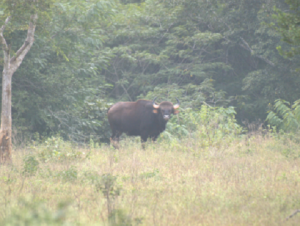 I had spent the day reading the "Black Panther of Sivanipalli" by Kenneth Anderson, the great hunter of Scottish origin who had settled in India and whose books are hailed as classics of jungle lore. Towards evening I engaged myself spotting the flying beauty plum headed parakeet and the stork billed king fisher. All of a sudden, in the evergreen forest to my left bordering the resort, I noticed the "horns" with a distinctive elliptical cross-section at its base, a characteristic that is strongly male. I leaped down from the machan where I was watching the birds and ran about 800 m in the direction of the horns I spotted. I could not get a clear view of where the beast stood, and when I did find him, to my surprise I found that he was a gaur or the Indian bison and was looking in my direction. It seemed as if he was noticing my actions for quite some time now. I quickly tried kneeling to hide myself. Read more
I recently decided to do some internet searching to check out what our guests are writing about us on their blogs.
I was pleasantly surprised to find some pretty interesting materials out there.
Here are two of these that really stand out:
Review #1: Ramesh Rambling - http://ramesh-randomrambling.blogspot.in/2013/09/inn-wild-awesome-place-to-be-in-wild.html
The beautiful colors in the shot of the double rainbow was simply breath taking!
It is 9 in the morning here at our resort situated in the Mudumalai forests at the foothills of the Nilgiri mountains near Masinagudi. It is a misty morning with low visibility, however, I have set out as usual, with a camera in my hand. Suddenly I hear a loud alarm call from peacock as they flutter to the nearest tree with a heavy flapping of their wings. Langurs sent out an alarm call for the deer grazing about a hundred meters away in the open grassland. I thought it must be our "resident" leopard on prowl, but I was wrong it was a pack of Wild dogs. Read more
It was a visual treat for our guests as millions of fascinating Dark Blue Tiger butterflies fluttered away. This breathtaking scene could be viewed right on our resort at Masinagudi, near Ooty, situated close to the Bandipur and Mudumalai forest reserve.
Read more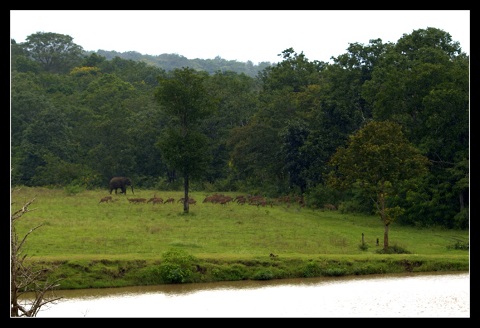 It was a cloudy evening at Masinagudi, just after a light monsoon shower. Peaks of the Nilgiris (Blue Mountains) around the Mudumalai forests appeared as a floating island surrounded by mist. I was at our resort, which is situated close to the Mudumalai National Park and the Bandipur National Park, enjoying the gentle breeze accompanied by a drizzle blow over my face. That's when I heard the distant call of pea fowl, it was around 5.00 pm, when a group of around five hundred deer slowly came out of the shade and started grazing freely on the open grasslands. And was I in for a "Jumbo" surprise…
Due to the recent elephant attack in the Singara forest range near Mudumulai National Park, and the unfortunate death of a British Citizen, Mr. Colin Manvell, there is a temporary suspension on the deep jungle safaris in the Singara region through which even InnTheWild Deep Jungle Safaris are typically conducted. This is a temporary suspension until the police investigation of the matter is complete.
To make sure that your vacation is not impacted in anyway, we are happy to inform you that the we will now take you  via the Government Operated Safaris at both Mudumulai and Bandipur National Parks. Also please note that during this time, our on-property safari/night drives and nature walks by expert naturalist remain unimpacted are still very much active. Both of these activities are included in the Package Rates and please note that there is always a very good chance of spotting wildlife during these activities as well.
We are in constant touch with the government and will keep you notified via our website and blog. Please register for the RSS feed, in case you would like to track this closely. Alternatively, please do call our reservations desk at +91-80-4911-4949 for any further questions or clarifications that you may have.
We hear a lot about the need to conserve nature and protect our ecosystem, such efforts though are often limited to "creating awareness in the society'. Creating awareness is no doubt an important aspect for ecological conservation, however, can't our efforts be more impactful? To help answer this question, InnTheWild Resort Near Bandipur, as part of our continues conservation and eco-tourism efforts in Mudhumalai, has introduced our "Plant a Tree Initiative". So, come on over, and lets seed life together
Its 5.30 am. The weather still carrying the heaviness of last night's rain. Like an untamed wild horse, our gypsy geared and skidded through the bumpy and slushy terrain. Our tribal spotter and driver, Mr. Mahesh, seemed as relaxed as a cowboy as he made his way through the mist covered morning…
At InnTheWild, Located Near Bandipur,  our staff and management are always concerned about the beautiful wildlife and wilderness that surrounds us. So as a Senior Naturalist here, one of the first major steps that I have undertaken is to have gotten our first conservation program kick-started and approved by our management. This is the first among various baby steps that we plan to undertake, and when you do visit us, please do have a word with me (Subish Sebastian, Senior Naturalist, InnTheWild, Masinagudi) on how *YOU* can get involved with the InnTheWild Conservation Program.
Weeds are considered a serious threat to biodiversity in several World Heritage-listed areas including the Western Ghats and specifically the Mudumulai and Bandipur Tiger Reserve. Therefore weed management becomes the top priority for habitat management for the ungulate population and thereby for the carnivores.